Vol.36, No.3: Jul-Sep 2020
Power and Protest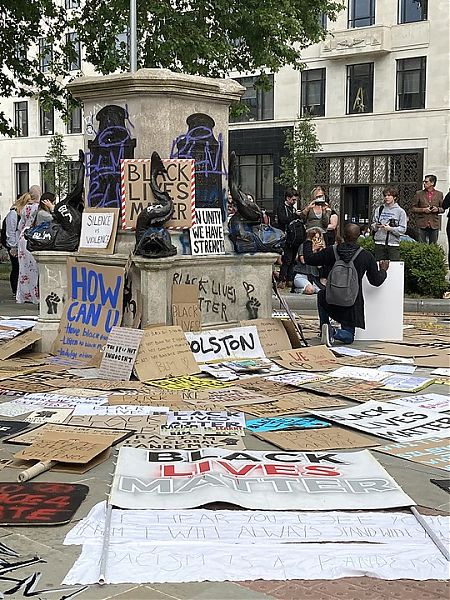 Black Lives Matter activists and allies celebrate the removal of a statue of Edward Colston, a notorious 17th century slave trader, from its plinth in Bristol, England .

Disruption is at the heart of civil resistance, as long as it does not turn to violence. See Property Damage, Violence, Nonviolent Action, and Strategy by Tom Hastings in our July-September issue (with thanks to the International Center on Nonviolent Conflict, the original publishers) comment
Also in this issue
Covid-19: A Planetary Disease
All diseases start somewhere, writes University of Otago lecturer Louise Delany, but true prevention and management should begin before, not after, any contagious disease crosses borders. comment
The New Geography of Eastern Europe
We've despaired as right-wing populism has engulfed the nation-states of Hungary, Poland, the Czech Republic, and Slovakia. But take heart: young, progressive mayors are transforming the modern capital cities of those same countries. Thorsten Botz-Bornstein describes the "Pact of Free Cities," its supporters, and their aspirations. comment
Peace Magazine archives
Every year on New Year's Day, we mark the occasion by uploading all remaining articles from the issues published during the preceding calendar year. See the archive page here for more than 2600 individual articles from March 1985 to October 2019.
Video series
Peace Magazine's Project Save the World releases a new one-hour video on Monday evening each week. These are broadcast on both Facebook and YouTube. You can watch on our Facebook page, or watch all recent shows right here. (The display's layout may vary depending on your screen size. At the top of the box below, click the small 'playlist' icon to browse through a full list of videos.)


Talk back: Commenting on articles
You can submit comments on selected articles during the current issue's date-span (eg Jul-Sep 2020). We are using a slightly different article template for these articles; follow the links in the paragraphs above, or see this issue's table of contents page to pass your judgment on current articles. Comments are moderated, so will not display immediately on the page.
If you want to discuss an earlier article with us, or if you would like to submit a letter to the editor for publication, you can write the editor directly.
The Peace Crossword
We have an archive of past and current Peace Crosswords on this site. Puzzles open in the free Litsoft program, which is an attractive and easy to use interface for solving puzzles. The puzzle homepage includes download links for the software: you can access it here.
If you're a subscriber and prefer solving the puzzle on paper, you may want to use the software program to check your answers—no need for waiting until the next issue arrives in the mail!
Follow us on Facebook and Twitter
Facebook page: www.facebook.com/PeaceMagazine. Another way to keep connected and give us your feedback on our articles.
Twitter feed: twitter.com/peace_mag
Credit card payments
We can take most online payments through PayPal. See the right-hand sidebar on this page for special forms for new subscriptions, renewals, gift subscriptions, and donations.
You are, of course, always welcome to pay with Canadian or US cheques through the mail.
Cover Gallery
Our cover gallery can be found at www.peacemagazine.org/covers.htm. Below each cover thumbnail is a link to the article index for that issue.
Updated 06 July 2020