Vol.32, No.1: January-March 2016
New Year, new hope?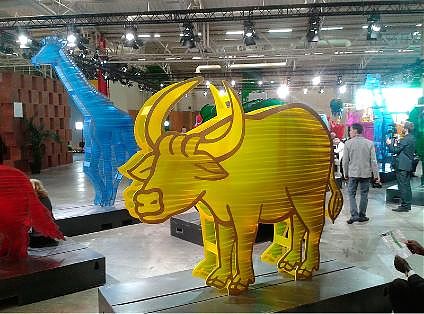 installation at the COP21 climate change summit, Paris, Nov-Dec 2015.
In this issue
A Chat with Lloyd Axworthy
As Canada's Minister of Foreign Affairs, Lloyd Axworthy took a key role in enacting treaties on landmines, child soldiers, and the International Criminal Court. Metta Spencer spoke with him before the November Eric Fawcett Memorial Lecture, where he was the keynote speaker. COMMENT
Opposing Putin's War on the Environment
Best-practice conservationist policies were introduced into the Soviet Union during Stalin's later years—policies which have recently been junked by what many Russians are calling "Pollutionocracy," John Bacher reports. COMMENT
Banning Short-Range Nuclear-Capable Missiles from South Asia
Researcher Debalina Ghoshal proposes an arms control treaty which would be in the interests of both India and Pakistan, and which could lead to a more comprehensive settlement between the two nuclear powers. COMMENT
Dietrich Fischer 1941-2015
With his friend Johan Galtung, Dietrich Fischer was a co-founder of the peace, development, and environment network Transcend. Farah Jaffer remembers a beloved peace worker and researcher.
Talk back: Commenting on articles
You can submit comments on selected articles during the current issue's date-span (eg Jan-Mar 2016). We are using a slightly different article template for these articles; follow the links in the paragraphs above, or see this issue's table of contents page to pass your judgment on current articles. Comments are moderated, so will not display immediately on the page.
If you want to discuss an earlier article with us, or if you would like to submit a letter to the editor for publication, you can write the editor directly.
The Peace Crossword
We have an archive of past and current Peace Crosswords on this site. Puzzles open in the free Litsoft program, which is an attractive and easy to use interface for solving puzzles. The puzzle homepage includes download links for the software: you can access it here
If you're a subscriber and prefer solving the puzzle on paper, you may want to use the software program to check your answers—no need for waiting until the next issue arrives in the mail!
Follow us on Facebook and Twitter
Facebook page: www.facebook.com/pages/Peace-Magazine/224393994267274. Another way to keep connected and give us your feedback on our articles.
Twitter feed: twitter.com/peace_mag
Credit card payments
We can now take most online payments through PayPal. See the right-hand sidebar on this page for special forms for new subscriptions and renewals; other payments, such as gift subscriptions, can also be paid online by request (we'll email you an electronic invoice). We no longer take credit card payments by mail or phone, due to excessively high charges, but PayPal accepts all major credit cards on our behalf (choose the "Don't have a PayPal account?" option when checking out).
You are, of course, always welcome to pay with Canadian or US cheques through the mail.
Cover Gallery
Our cover gallery can be found at www.peacemagazine.org/covers.htm. Below each cover thumbnail is a link to the article index for that issue.
Updated 08 January 2016