Vol.34, No.1: January-March 2018
The Nuclear Ban: Danger and Opportunity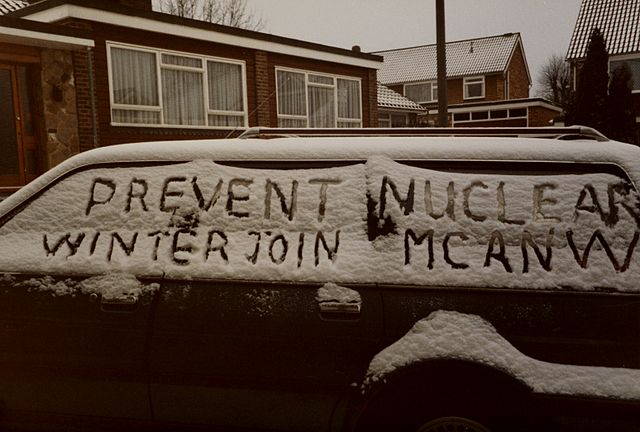 Writing in snow on the side of a car during a British winter. MCANW was a predecessor organization of Medact, the UK affiliate of International Physicians for the Prevention of Nuclear War.

Given our current path, it is only a matter of time until there is another nuclear event. In Nuclear Disarmament: Universalizing the Treaty, Earl Turcotte suggests ways the nuclear logjam can be broken. COMMENT
Also in this issue
Who's More Dangerous: A Nuclear Kim or an Erratic Trump?
There is no possible rational or legal use of nuclear weapons by either the US or North Korea, writes Robin Collins. COMMENT
Update on our How to Save the World Project
Since you're reading Peace Magazine, it's safe to assume that you're trying to save the world from something: war or global warming, say, or famine, pandemics, radiation exposure from a reactor explosion, or maybe even cyberwar. So, how's it going for you? Metta Spencer gives an update. COMMENT
Talk back: Commenting on articles
You can submit comments on selected articles during the current issue's date-span (eg Jan-Mar 2018). We are using a slightly different article template for these articles; follow the links in the paragraphs above, or see this issue's table of contents page to pass your judgment on current articles. Comments are moderated, so will not display immediately on the page.
If you want to discuss an earlier article with us, or if you would like to submit a letter to the editor for publication, you can write the editor directly.
Gene Sharp 1928-2018
Gene Sharp, the iconic theorist of nonviolent action, died on 28 January, a week after his 90th birthday. Gene was a frequent presence in the pages of Peace Magazine, and we will all miss him greatly.
An appreciation by Jørgen Johansen can be read on Science for Peace's blog.
Peace Magazine archives: January update!
Every year on New Year's Day, we mark the occasion by uploading all remaining articles from the issues published during the preceding calendar year. See the archive page here — we now have more than 2500 articles online, and that doesn't even include the 1983-84 Peace Calendar (which has its own archive.)
The Peace Crossword
We have an archive of past and current Peace Crosswords on this site. Puzzles open in the free Litsoft program, which is an attractive and easy to use interface for solving puzzles. The puzzle homepage includes download links for the software: you can access it here.
If you're a subscriber and prefer solving the puzzle on paper, you may want to use the software program to check your answers—no need for waiting until the next issue arrives in the mail!
Follow us on Facebook and Twitter
Facebook page: www.facebook.com/pages/Peace-Magazine/224393994267274. Another way to keep connected and give us your feedback on our articles.
Twitter feed: twitter.com/peace_mag
Credit card payments
We can now take most online payments through PayPal. See the right-hand sidebar on this page for special forms for new subscriptions and renewals; other payments, such as gift subscriptions, can also be paid online by request (we'll email you an electronic invoice).
You are, of course, always welcome to pay with Canadian or US cheques through the mail.
Cover Gallery
Our cover gallery can be found at www.peacemagazine.org/covers.htm. Below each cover thumbnail is a link to the article index for that issue.
Updated 31 January 2018