Vol.37, No.4: Oct-Dec 2021
Cause for Alarm in the Arctic?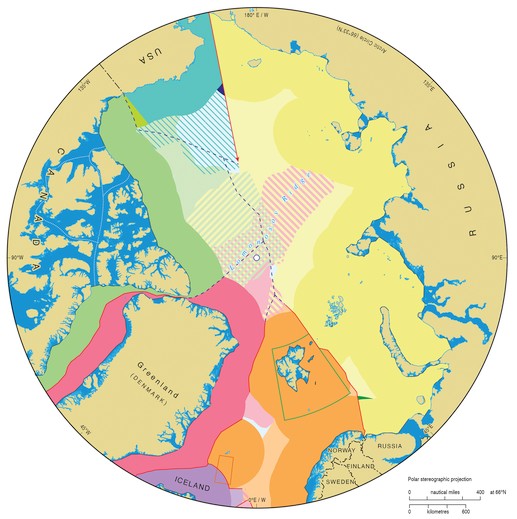 Why do articles claim that the overlapping continental shelves of Russia, Greenland, and Canada "could open the way to a serious crisis, perhaps even a military one" writes Elizabeth Riddell-Dixon.
Riddell-Dixon is irked by shocking stories about Russia's excessive claims to areas of the Arctic Ocean. Look at the map and stop the panic, she says. Russia is behaving normally and following international law.
Read more on Arctic disputes, real and imagined, in our October-December issue.
Also in this issue
A Climate Change Code Red
Without aggressive actions, the earth's temperature could exceed 3.0 °C by the end of this century and sea level could increase as much as 1 to 3 feet. Some changes, such as a rising sea level, will persist for centuries, climate change experts Craig Smith and William Fletcher tell us.
Some Silver Buckshot
Yes, of course the only real "silver bullet" is to quickly stop using fossil fuels. But that's no reason to ignore some promising "silver buckshot": carbon negative concrete; urban forests; electric driverless vehicles; and nitrogen-fixing molecules.
Axworthy's Refugees
As chair of the World Refugee and Migration Council, Lloyd Axworthy reminds our editor about the plight of some 82 million vulnerable people who have fled across national borders. Some of them could be spared this journey if they could apply for immigration in their home countries, an option Canada has long offered.
Civil Resistance Tactics in the 21st Century
Why are so many people striking nonviolently, boycotting, sitting-in, marching, testifying, broadcasting, and protesting in scores of countries? Barbara Wien reflects on Michael Beer's latest book on civil resistance.
Newsworthy
A fine assortment of short news reports, with clickable links to some of the environmental and peace activities Peace Magazine has been welcoming:
The end of leaded gas | Demand cuts to military emissions | China is building two nuclear missile silo fields | Call for action against killer robots | Mexico sues US gun manufacturers
PressReader and Peace Magazine
We are pleased to announce that Peace Magazine can now be read on PressReader, the world's largest digital magazine provider.
Our 32-page magazine has always been available in two forms: a quarterly print publication, and the text archive on our website, peacemagazine.org. The former costs $20 in Canada, whereas the latter is of course free—though we only put half of each issue online immediately after publication (in a text-only format), making the remaining articles available on the archive only at the end of each year. Foreign subscribers have been few, since it is costly and slow to mail print magazines overseas.
We will keep the print website available as before. But now each entire issue also will be available immediately for subscription worldwide in a digital version that contains everything (including photos, letters, editorials, and color) that appears in the print edition—at the same $20 annual subscription price. The digital version is formatted either for reading on regular computers, tablets, or mobile phones, and instant translation is available into 30 languages.
Unlike the print version of Peace Magazine, to which you will still subscribe directly through us, the digital version will be available in public libraries and by subscription through PressReader. Here is how to subscribe, either for yourself or as gifts for your friends around the world.
On a browser, go to pressreader.com and type Peace into the "search publications" space.
Peace Magazine archives
Every year on New Year's Day, we mark the occasion by uploading all remaining articles from the issues published during the preceding calendar year. See the archive page here for more than 2700 individual articles from March 1985 to October 2020.
Video, audio, text, and more: tosavetheworld.ca
Peace Magazine's "Project Save the World" (tosavetheworld.ca) releases a new one-hour video 5 to 7 times a week. These are broadcast on YouTube, but you can also watch on the Project Save the World website; listen to podcasts if you'd rather; read transcripts in place of videos and podcasts; or discuss comments online.
You can also watch recent videos on Peace Magazine's home page (see below). The display's layout may vary depending on your screen size. At the top of the box below, click the small 'playlist' icon to browse through a full list of videos.


Follow us on Facebook and Twitter
Facebook page: www.facebook.com/PeaceMagazine. Another way to keep connected and give us your feedback on our articles.
Twitter feed: twitter.com/peace_mag
Credit card payments
We can take most online payments through PayPal. See the right-hand sidebar on this page for special forms for new subscriptions, renewals, gift subscriptions, and donations.
You are, of course, always welcome to pay with Canadian or US cheques through the mail.
Cover Gallery
Our cover gallery can be found at www.peacemagazine.org/covers.htm. Below each cover thumbnail is a link to the article index for that issue.
Updated 09 October 2021