Editorial
Julia Kalinina is a Moscow journalist whose last article for us described the defence of the Russian White House in August 1991. This time she gives us an analysis of Boris Yeltsin's war in Chechnya; it's not a flattering picture of the Russian president and, combined with the longer-term analysis offered by Yevgenia Issraelyan, it seems ominous.
But after sending us the story you will read here, Julia went off to Chechnya for a week. We phoned her after she had returned to Moscow. First she had visited the Russian troops for two days, finding them hostile and lacking any moral qualms. Then she took a seven-hour bus trip to Ingushetia, spent the night in a hotel, then hired a driver who would take her to Grozny, which was undergoing its worst period of bombing. She visited the Chechen troops in their warm underground quarters. They were calmly certain of the justice of their cause and hospitable, despite their suspicions that the press was spying. They asked her about a certain car with a red stripe, which she said was the Russian TV crew. They told her that whenever the crew spent a day filming a building in Grozny, that building was always bombed the next day. Upon returning home, she called the TV crew to demand an explanation of them. But they had not been in Grozny. Julia concluded that it was the successors to the KGB, disguising themselves as journalists, who had been spying in Grozny, and deliberately stirring up ill will toward Russian journalists.
Julia had not yet decided how to report this fact. Three months ago her co-worker had been killed by a suitcase bomb in the office they shared in Moscow. He had been writing an expose of deals between the military and the mafia. But the press had refused to be intimidated by his death. There's little democracy in Russia nowadays, but there's still a free press. Bless them!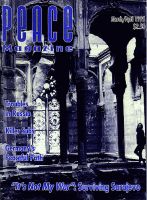 Peace Magazine Mar-Apr 1995, page 4. Some rights reserved.
Search for other articles by PMag staff here