National Letter-Writing Coalition
November 30, 1985 has been declared International Day Against War Toys. Groups and individuals around the world are being called upon to state their opposition to the militarization of children. Vigils and demonstrations are being held. Whether or not you participate in such a demonstration, you may wish to write to the government and to toy manufacturers, explaining why war toys are not appropriate gifts and why sale of such items should not be permitted in Canada. Write to the Federal Department of Consumer and Corporate Affairs, 50 Place du Portage, 50 Victoria Street, Hull, Québec K1A 0C9. You may want to write to your provincial Department of Consumer and Corporate Affairs, and send copies to the following major manufacturers of war toys:
HASBRO CANADA, 230 de la Province, Longueuil, Québec J4G 1G2
FISHER-PRICE, East Aurora, N.Y. 14052.
KENNER, 43 Hanna Avenue, Toronto M6K 1X6.
GALOOB South San Francisco, Calif. 94080.
GANZ BROTHERS, 1 Pearce Road, Woodbridge, Ont.
NOBILITY, Box 330, Pointe Claire, Québec
ECHO, do Saber International, Box 186, Cartierville. Montréal, Québec H4K 2J5.

Should your group be interested in joining the National Letter Writing Coalition, please write to us at Box 43, 70 King Street North, Waterloo Ont. N2J 3Z6. Also, please send letter-writing suggestions.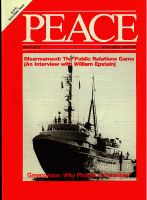 Peace Magazine November 1985, page 6. Some rights reserved.
Search for other articles by PMag staff here