How We Work for Peace
Christine Peringer ed. How We Work for Peace: Canadian Community Activities Dundas, ON: Peace Research Institute-Dundas, $10
In early '86, Christine Peringer sent questionnaires to 800 Canadian peace groups asking each to describe one of their activities, especially whether it worked and why so. She asked further what their biggest challenge had been and, based on their experience, how they would advise others to overcome it. This book is the result of that survey. It's a happy, chatty compendium of advice that provides fascinating glimpses of the peace movement at work, much of it through direct quotations from the voluminous correspondence Peringer brought upon herself. We learn about the outcome of major projects, such as:
_ "Peace Productions," which produced radio commercials, and prompted 66 local groups to raise money to air the ads.
_ The last "Elections Priorities Project," which succeeded better in generating media interest at the local riding level than at the national level.
_ The peace tapestry organized by the Victoria, Ontario group that went door to door, asking for lengths of ribbon, string, yarn, or lace, which at each doorstep was ritually tied by the donor to the last donation. Then they constructed a loom and, using what had been donated, wove a 12 by 4 foot tapestry, which they carried in the Santa Claus parade. People were looking for their bit of string or ribbon. The tapestry later won a prize in the crafts division of the Creative Peacemaking Contest in Kingston, was circulated around local churches and schools, and will be displayed permanently in the municipal offices.)
_ The prescriptions sent by London, Ont CPPNW doctors on their real prescription forms to their M.P.P.s calling for one vote in favor of a nuclear weapon-free Ontario.
Peringer has copiously illustrated her desktop-published book with logos and cartoons. Whenever possible, she shows samples of the materials her informants produced. For example, when Janet Duval of the Halton Hills group reported on the newspaper columns they write for local papers, she enclosed a clipping by Gail Rutherford, which is reproduced. It seems Ms. Rutherford's son was given a G.I Joe plane for Christmas. When he gravely refused to accept it, her family chimed in, "Why it's a lovely plane! What's the matter with you?" Quick-thinking Dad rescued the situation by turning the gift into a "peace plane," discarding its bombs and repainting it. Now it flies missions dropping blankets to volcano victims and food to the starving. The family (and the paper's readers) got the message.
The book's main shortcoming, it seems to me, is also its strength-its predominantly upbeat tone. Either because of the editing or because the responding peace activists were exhibiting P.R. savvy, not many "downers" appear in this collection. Even when results must have been disappointing (e.g. when the massive Peace Productions effort netted only 150 inquiries from the hundreds of thousands of radio listeners), they are usually reported in cheerful terms. I started hunting, without success, for a blunt confession that at least one group's effort had been a flop, botched from start to finish. This is not the publication in which peace activists let down their hair about failures and frictions. Instead, this book offers lots of nifty ideas in an encouraging "You-Can-Do-It-Too!" tone.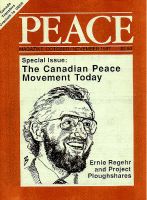 Peace Magazine Oct-Nov 1987, page 42. Some rights reserved.
Search for other articles by Metta Spencer here