Nanoose Peace Camp Opens Again
The Nanoose Conversion Campaign (NCC) opened its peace camp on April 1st. The peace camp is part of an overall strategy to accomplish the three goals of the NCC: l) non-renewal of the Canada-US agreement governing the use of Nanoose Bay when it expires in April 1986; 2) an end to all weapons systems testing at Nanoose; and 3) conversion of the Canadian Forces Maritime Experimental and Test Range (CFMETR) to peaceful purposes.
CFMETR is an extremely sophisticated underwater weapons testing range al Nanoose. The range plays a major role in the development of the US Navy's anti submarine warfare program. Research in this area is an essential part of the US government's first-strike strategy. Weapons tested at Nanoose include the SUBROC and ASROC, both of which are nuclear systems designed for use against submerged Soviet submarines. As well, some of the US nuclear attack subs that use the range have already been fitted with nuclear-tipped Tomahawk cruise missiles.
The camp and the Conversion Campaign will need much support. Already a few local residents have been to the Regional Board to insist that the campers be evicted,and while support is strong in neighbouring Parksville and Nanaimo, Nanoose Bay itself is a wealthy and conservative community, with many retired military personnel.
Unlike the two previous summer peace camps, this year's camp intends to stay at least until the expiration of the Canada-US agreement in April of 1986. There are many ways that groups and individuals across Canada can help the campaign.
Please drop the NCC a line if you are interested in information, petitions, their slide show or directions to the camp. Contact: Nanoose Conversion Campaign, Box 1981, Parksville, B.C. VOR 2S0.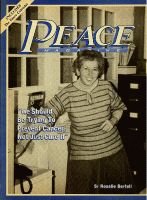 Peace Magazine May 1985, page 6. Some rights reserved.
Search for other articles by Laurie MacBride here