Corruption Perception Index 2013
Transparency International has released its Corruption Perceptions Index for 2013. The Index evaluates 177 countries and territories on a scale from 0 (highly corrupt) to 100 (very clean). No country has a perfect score, and two-thirds of countries score below 50. New Zealand and Denmark are tied for top place, with a score of 91. At the other end of the scale, North Korea, Afghanistan, and Somalia are tied for last place with a score of 8.
There is an interactive map online at www.transparency.org/cpi2013/results. You can also download the full data set, including high-res copies of this map.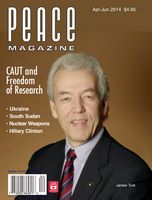 Peace Magazine Apr-Jun 2014, page 30. Some rights reserved.
Search for other articles by peacemag here