The Tragedy of Child Soldiers
Over the last 20 years the international community has tried to sharply reduce if not eliminate the use of child soldiers. Article 38 of the 1989 United Nations Convention on the Rights of the Child stipulates that states take all feasible measures to ensure that individuals under 15 years of age do not take part in direct hostilities.
By August 2004, 77 countries had ratified a protocol, including 58 states which now maintain a "straight-18" position excluding the recruitment of children under 18 years of age.
However, not all signatories to the agreement have withdrawn children from combat. In particular, Burundi and the Democratic Republic of Congo (DRC) -- two of the nations with the largest number of child soldiers in this category -- have failed to act on their treaty obligations.
Approximately 300,000 children under the age of 18 are serving in government armies and rebel groups in 33 countries, mainly though not entirely in the developing world.
Among developed nations, the United Kingdom has been heavily criticized for recruiting children from age 16 and for sending 17-year-olds to combat in Iraq.
Twenty-three percent of the world's armed organizations use children under age 15 in combat roles.
Besides actively engaging in war, children as young as eight years old are used as spies, messengers, cooks, porters, servants, or to lay and clear mine fields. As a consequence of modern technology and lightweight automatic weapons, even 10-year-olds can tote and master a variety of lightweight rifles, grenade launchers, machine guns, and mortars.
Prolonged warfare all but destroys normal economic and social conditions, especially in poverty-stricken developing nations. With schools closed and their parents unemployed, children join armed forces to "secure daily food and survive." Surrounded by violence and conflict, many volunteer for the protection they believe carrying weapons will afford them.
Peter W. Singer of the Brookings Institution believes AIDS is a significant factor in the rise of child soldiers. Having watched their parents succumb to this sickness, "many [children] will consider they have nothing to lose by entering into war." By 2010, more than 43 million children will be AIDS orphans, losing one or both parents to the disease. The numbers will be greatest in Africa, "the epicenter of the child soldier phenomenon."
It's not unusual for children to fight and kill each other. In Colombia, tens of thousands of child soldiers have been used by every armed faction in that country's ongoing conflict. Children have waged war for both government and rebel groups in the Ivory Coast and Burundi. Because they are easily manipulated and intimidated, children often prove to be obedient, effective warriors.
Human Rights Watch reports that in Sierra Leone, thousands of child soldiers abducted by rebel forces have witnessed or participated in atrocities against civilians including beheading, amputations, rape, and burning people alive. Commenting on an incident where 10 people were killed "like dogs," a former child soldier in Myanmar (Burma) stated that his superiors "made us drink the blood of people ... we took blood from the dead into a bowl and they made us drink ..." Children forced to partake in such despicable acts are sometimes given drugs to overcome their fear and reluctance to kill.
Save the Children estimates that 40 percent of child soldiers worldwide are girls. In addition to their regular duties, young females are subject to sexual violence and rape by adult male fighters. In Colombia, girls attached to armed groups are forced to use contraceptives, and if they become pregnant, to undergo abortions.
Girl soldiers typically find themselves in a no-win situation as they are "too scared to stay and too scared too leave." A Save the Children study of young females who escaped armed groups in the DRC found these war victims were often received with suspicion and hostility upon returning home. Community members assumed the girls had been sexually abused or had multiple sex partners, even where this was not the case.
War is a brutal and dehumanizing experience. It's especially tragic when a society's most vulnerable members are not only killed, but transformed into killers.
George Bryjak is a professor of sociology at the University of San Diego.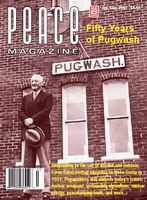 Peace Magazine Jul-Sep 2007, page 26. Some rights reserved.
Search for other articles by George Bryjak here