From the Editor
This is the season for stock-taking - particularly since we are actually entering the new millennium in 2001. (Last January was a false alarm.)And there is a lot to celebrate. As Morris Miller and Hanna Newcombe remind us in this issue, democracy is extremely important for peace, and democracy is still on the upswing around the world. So is peace, despite the numerous and highly publicized examples of ethnic wars. Freedom House, which rates 192 countries in terms of effective political rights and civil liberties, has produced its annual report, which also summarizes the 1990s. Its survey teams rated 86 countries as Free, 59 countries as Partly Free, and 47 countries as Not Free. These are the best results found so far; 30 more countries today than a decade ago are either Free or Partly Free. But in population terms, fewer than 65% of individuals are either Free or Partly Free, so there is still room for improvement. For a complete breakdown of the survey, go to: www.freedomhouse.org/research/index.htm.
Freedom House's ratings are reviewed by a number of scholars and experts from the United States and from each region. Scores are based on checklists appraising a number of actual freedoms of ordinary people in each of the countries. Here's another encouraging finding: the economies of Free countries grew at an average annual rate of 2.56 percent over a nine-year period - a rate 70 percent higher than the average for Not Free states. Among poor countries (those with a per capita GDP below $5,000) Free countries grew at an average of 3.23 percent between 1990-1998, well over double the annual growth rate of poor Not Free states. The economy is favored where the rule of law is respected, property rights are enforced, citizens are engaged in politics, and the press actively exposes and reduces corruption. These findings show that democracy is good for peace and also for the economic well-being of citizens. Let's not forget that!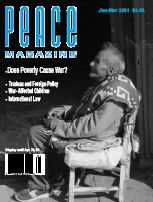 Peace Magazine Jan-Mar 2001, page 4. Some rights reserved.
Search for other articles by PMag staff here