From the Editor
See, you did make a difference after all! All that marching you did, all those petitions you signed, all that lobbying you did finally paid off. Congratulations! There's a lot to celebrate this fall. The World Court has made the most important decision of its history, rejecting nuclear weapons. The Canberra Commission has announced its program for eliminating nuclear weapons. And the U.N. General Assembly has adopted a comprehensive test ban treaty - a goal toward which some activists have worked throughout their lives.
Canada has taken some significant new independent steps too. The foreign ministry hosted a conference on land mines and boldly challenged the participants to come back next year to finalize a treaty banning those monstrous weapons. And Hon. Lloyd Axworthy has announced plans to set up a civilian peacekeeping force to intervene peacefully wherever such actions are required in the world. Your friends have been advocating that very policy in these pages. You're entitled to elebrate, but not to relax! Minister Axworthy needs your support. He wants you to push him even harder. Do so!
Also, remember that donors and subscribers are the people who keep Peace Magazine alive. You can support us and your friends at the same time (while avoiding shopping hassles) by ordering a dozen subscriptions as holiday gifts for friends. In this season of peace, we wish you the happiness of knowing that you'll continue to make a difference in 1997 as well.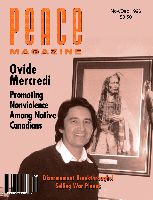 Peace Magazine Nov-Dec 1996, page 4. Some rights reserved.
Search for other articles by PMag staff here