Children as peacemakers
Esther S Fine, Ann Lacey, Joan Baer (authors)
Children as Peacemakers is an encouraging story of how students in a small Toronto elementary school learned to resolve conflicts without hurting each other's bodies or feelings.
As teachers at Downtown Alternative School, the book's authors developed a Peacemaking program based on the Conflict Managers' Program that the Community Board of San Francisco had implemented in several schools. The rules of Peace-making were straightforward: no running away, no interruptions, no name calling, no lying. Using these rules, students of many cultures and as young as three-and-a-half could negotiate peaceful solutions to conflicts.
The Peacemaking program did more than curb hot tempers. As they learned to negotiate, the children developed language skills that produced significant changes in reading, writing, math, and artwork. They were more able to learn in an environment in which they felt safe. Teachers learned too. They learned to share their power in the classroom by adopting some of the same Peacemaking rules they were advocating for the children--respecting one another, working together, and negotiating decisions.
The only criticism I have of this book is its price--$29.95 for a 79-page paperback. But in a time when conflicts in schools are often solved with guns and knives, that's a small toll to pay on the road to peace.
Reviewed by Lisa Ferguson, an Associate Editor of Peace.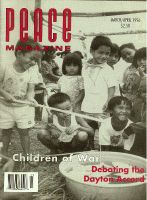 Peace Magazine Mar-Apr 1996, page 31. Some rights reserved.
Search for other articles by Lisa Ferguson here